A best-fit mirror that complements your bathroom
5 min read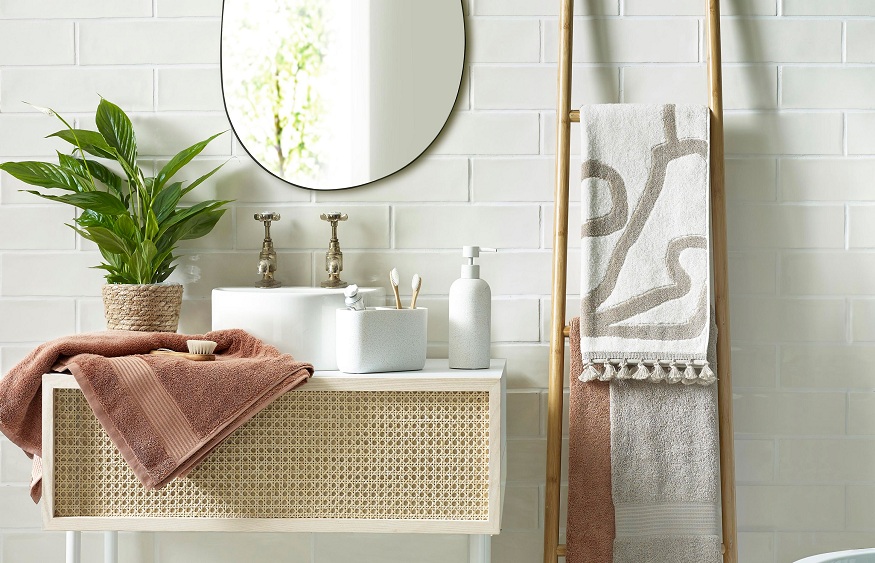 Bathroom mirrors are often overlooked as a simple decoration but are essential to our daily routine. As we use them daily, we must pay attention to them and choose the one that suits our needs. A mirror makes it easier for us to get ready and helps us maintain our hygiene. Thus, choosing quality bathroom mirrors that are functional and provide optimal lighting is essential. Let's not overlook the importance of bathroom mirrors and invest in ones that cater to our needs.
Installing a new bathroom mirror is an easy and cost-effective way to update the look of your bathroom. Unlike other fixtures, it can be changed with minimal effort and cost. Additionally, mirrors can complement your bathroom decor or act as an understated feature to let other elements shine. Simply swapping out a mirror is a quick and effective way to spruce up your bathroom and inject your style.
Tips for a bathroom mirror that suits your bathroom and your personality
When choosing a bathroom mirror, it's important to consider your style and preferences. Some tips to keep in mind include choosing the right size and shape for your space, selecting a mirror with appropriate lighting and considering the type of frame or edge that will complement your décor. Ultimately, the mirror should look good since you'll use it regularly.
Choosing the right bathroom mirror involves considering the sink size, personal height, and wall space. To ensure the mirror is functional, the glass should be positioned a few inches above the tallest person's eye level and low enough for shorter individuals to see themselves easily. Taking these factors into account will ensure a comfortable experience for all users.
Mirrors come in different sizes and have different advantages. Large mirrors offer more reflection space and make a room appear larger. On the other hand, small mirrors can leave space for another decor in a room. The mirror size mostly depends on personal preference, but it is essential to consider the space available and the desired effect. Mirrors can add beauty and functionality to a room and should be chosen carefully.
Consider whether you want a framed or frameless design when choosing a mirror. Frameless mirrors are modern and have a clean, stylish appearance that fits a spa-like environment. On the other hand, framed mirrors provide additional details and can fill up empty wall space. Ultimately, your preference for style and aesthetics will determine which type of mirror you should opt for.
Learn about different mirror factors to choose the right product for you. Consider magnification, size, lighting, and portability, and weigh their importance based on your needs. Remember that the right mirror can make applying makeup, shaving, or grooming more convenient and effective.
Size best fit to your bathroom
When choosing a bathroom mirror size, it is best to consider the size of the vanity. Typically, mirrors are a few inches narrower than the vanity, but this can vary based on personal style and space configuration. It is possible to hang a mirror over a narrow vanity's entire length or choose a different arrangement. Choosing a mirror that matches the bathroom style and provides adequate lighting for tasks like applying makeup is important.
When buying a bathroom mirror, measuring your sink or vanity is essential to ensure it meets your needs. While most people choose a mirror smaller than their vanity, others may opt for one the same size. It's best to determine the mirror's size based on your preferences. Using the sink or vanity measurements, you can easily narrow your options and select a functional and aesthetically pleasing mirror.
When choosing a mirror, it's important to consider whether you'll need a medicine cabinet. If you do, keep in mind that you'll have a smaller selection to choose from, and you'll need to ensure that the mirror is large enough to accommodate all the items you'll be storing in it, such as bandages and medications.
Considerable shape
Mirrors offer a variety of options to choose from, including different sizes, shapes and finishes. Traditional options like oval or rectangular with decorative styling are commonly used. Custom-made mirrors are also available for a perfect fit in any space. With so many choices, creativity can be easily incorporated into your mirror choice to fit any home décor style.
A minimalist mirror with sleek lines could be the perfect fit if you like modern homes. These mirrors often have additional features like temperature and time displays or built-in lighting. If choosing a modern mirror, you can also consider framed mirrors for bathrooms by MirrorMate.
The ideal place to hang out your mirror
Don't limit yourself to hanging a mirror in the traditional spot above the sink in the bathroom. If this isn't possible, think outside the box and find a unique spot to hang it. Consider hanging it on an adjacent wall or the back of the bathroom door. You could even create a statement piece by hanging a large framed mirror in your hallway or living room. The possibilities are endless, and with a little creativity, you can find the perfect spot to hang your new mirror.
The height at which a mirror should be hung above a backsplash depends on factors like mirror dimensions, ceiling height, and the location of other items. A subjective decision should be tested by making different options before finalising. Some people prefer a single large mirror to create a spacious and unified look, while others prefer two smaller mirrors for a more personalised and functional setup.
Conclusion
Deciding whether to hang a single large mirror or two smaller mirrors for a wide vanity in your bathroom comes down to personal preference. There isn't a rule that dictates which option is better. Using two smaller, taller mirrors can create the illusion of more vertical space in a bathroom, while a single large mirror can make the entire room seem larger by reflecting more of the space. Even with just one sink, multiple mirrors can still achieve this effect. Ultimately, the decision should be based on your style and needs.