Our tips for renovating an old kitchen
2 min read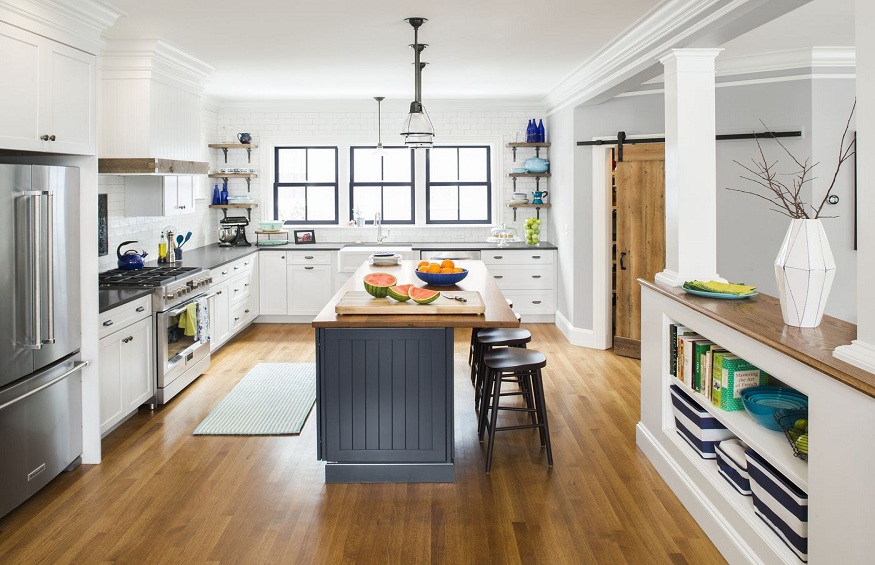 France is one of the European countries where kitchens last the longest – around 23 years compared to 12 years in Germany or 8 years in Scandinavia. However, the Opinion Way study shows that the French would like to change it every 14 years. This is explained by the place that the kitchen is given in interiors and decoration and furnishing magazines. Having become a living room in its own right, the kitchen must be modern, functional, convivial, spacious and stylish for the French respondents. Do you have a kitchen renovation project? Do you want to renovate an old kitchen  ? Leroy Merlin Studio, specialist in kitchen renovation, gives you some tips for sprucing up and modernizing this living room.
 Refresh your old kitchen
Modernizing your kitchen doesn't necessarily mean completely redoing it. By intelligently choosing the changes to make, you can refresh your room and give it the character it deserves without having to invest in a new kitchen and complete renovations. If the kitchen furniture is still in good condition, you can always repaint it with a special paint for a renovation at a lower cost.
This new color can bring change and freshness to your interior. Another possibility is to change the worktops and/or the credenza for more modern surfaces that are more in tune with your tastes or your interior.
In addition to the furniture, it is also possible to repaint the walls. These contribute greatly to the general atmosphere of a kitchen. To bring more light, repaint a surface that has lost its shine or change color, repainting kitchen walls is an effective alternative to avoiding costly and time-consuming renovation work.
Complete kitchen renovation
If a lick of paint can save your kitchen a few more years, partial renovation is generally not entirely satisfactory. Indeed, a "lick of paint" will not be enough in many cases.  If you want to completely redesign your kitchen, you can talk to your material suppliers such as metal or aluminium suppliers for advice, otherwise trust a kitchen renovation specialist.  He will be able to carry out an inventory of the volumes and understand your desires and your needs more precisely. Your daily life changes and so do your needs. A global renovation project allows you to take advantage of the volumes to create a high quality kitchen and to arrange the space as you see fit.
Contact our experts for more info
From the realization of the plans to the structural work through the finishes and accessories, leroy merlin studio accompanies you throughout the renovation process to deliver a modern and functional kitchen