Renovating your kitchen: how to proceed?
4 min read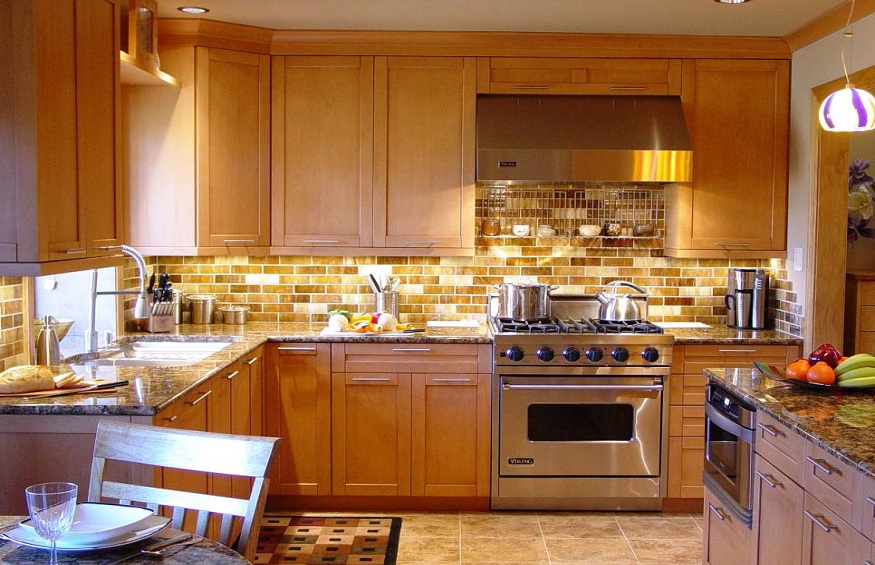 Do you want to modernize a rustic kitchen? Before you start renovating your kitchen, take the time to ask yourself the right questions. In this way, you will save time and avoid unnecessary expenses. What are the elements to take into account to carry out your project? How to determine in advance the constraints of the construction site? Should you do a complete renovation or just redesign the furniture in your kitchen? Discover our advice.
DETERMINE HOW YOU USE YOUR KITCHEN
It may seem obvious to you: your kitchen is for cooking. However, its use depends on a number of factors:
Your lifestyle
The number of people living in your household
Your personal tastes
As part of a kitchen renovation project, it is essential to ask yourself if this room will only be used for cooking or if you will take your meals there occasionally or regularly, alone or with your family. You can also decide to make it a living room if you don't have a dining room to entertain. But whatever your needs, they must be clearly defined before the work begins. This will allow you to choose:
Appliances adapted to your expectations
Adequate storage solutions
A workspace consistent with the use you will make of it
WHAT ARE THE SPACE CONSTRAINTS IN YOUR KITCHEN?
The renovation of your kitchen must take into account the constraints related to the surface and the configuration of the room. Open kitchen, closed, in length or reduced surface: anticipate the necessary arrangements before starting the work.
MAKE A DETAILED PLAN
If you have trouble deciding, make a detailed plan with precise measurements to compare the different options available to you for the layout of your kitchen. Location of doors, windows and ventilation grilles: put all these elements precisely on your plan. Are you unable to fit all the storage you want into the available surface? This may be an opportunity to review the layout of the space and knock down a wall to expand your kitchen. You can be accompanied by a professional for this step in order to ensure the feasibility of the work and to have a global vision of all the possible solutions.
WHAT IDEAS TO ARRANGE YOUR KITCHEN?
When you undertake the renovation of your kitchen, keep in mind the functional aspect of your room. Follow the activity triangle rule by keeping these three things close together:
Hobs for cooking
The sink for washing
The refrigerator to store
RENOVATING YOUR KITCHEN: DON'T NEGLECT VENTILATION
Renovating your kitchen can be an opportunity to optimize the ventilation in this room. Increased humidity and food odors should prompt you to opt for an efficient air renewal system. In the kitchen, professionals recommend opting for:
VMC, single or double flow
Hood, extraction or recycling
The installation of these two elements must meet standards. Do not hesitate to ask experts to make sure you make the right choice.
TOTAL RENOVATION OR SIMPLE MAKEOVER?
Are you planning a complete renovation of your kitchen or could a simple refreshment work suffice? How to decide? Here are some things to guide you:
What is your budget ?
The total renovation of your kitchen will cost you much more than simply replacing a few pieces of furniture or a worktop.
What condition is your kitchen in?
An old-fashioned or old-fashioned kitchen can still be quite functional. If this is the case with yours, a simple makeover of your kitchen furniture can be enough to bring it a bit of modernity.
Are you ready to face important work?
Renovating your kitchen can take several weeks and entail heavy work.
Take stock of your expectations and your personal constraints to help you choose between a complete renovation or a simple makeover of your kitchen.
HOW TO REVAMP YOUR KITCHEN?
Painting the walls, replacing the linoleum with tiles, transforming the walls, adding a new credenza: there are many options to revamp your kitchen at a lower cost.
REVAMP YOUR KITCHEN CABINETS
If your furniture still brings you complete satisfaction except for its aesthetic appearance, you can repaint the fronts of your cupboards to bring a little freshness to this room. Choose an anti-stain and anti-splash paint to guarantee its longevity. You can also change the handle knobs on the furniture in your kitchen to add a decorative touch to this room. A few frames on the wall, one or two plants and you will manage to transform the room without much effort.
CHANGE THE WORKTOP AND CREDENZA
Is your worktop scratched or damaged by humidity? You can choose to replace it completely. If it is made of wood, sanding and varnishing it will allow you to prolong its life. But if you want a more pronounced makeover, paint it over. Whether tiled, wooden, laminate or melamine, you will find very resistant paints suitable. If it is still in good condition but you simply want to change its aesthetic appearance to bring a touch of modernity to your decor, you can cover it with another material.
The splash back being a central element of the room, you just have to revamp it to create another decorative atmosphere as part of the renovation of your kitchen. Design it as the junction point between the low space and the high units of your kitchen. If it is tiled, you can cover it with a specialized paint or glue a new adhesive splashback over it.